We are delighted to introduce Eszter Riga, the newest addition to our team at ArchiBiz!
With a background in journalism, Eszter possesses a unique skill set that intersects art and communication. Prior to joining us, she served as Head of Global Publications at Bowerbird, an online platform that connects architects with journalists.
Her five years at Bowerbird equipped her with a comprehensive understanding of the architecture media landscape, and the difficult yet necessary steps it takes for architects to get their work published.
As our new Community Manager and Coach at ArchiBiz, Eszter plans to utilize her vast knowledge and expertise in the industry to assist our growing community of architecture firm leaders around the world. Her goal is to help them create successful, impactful, and respected practices and bring great architecture to the forefront of public awareness.
We had the pleasure of (virtually) sitting down with Eszter to learn more about her passion for architecture, her morning rituals, and what community means to her.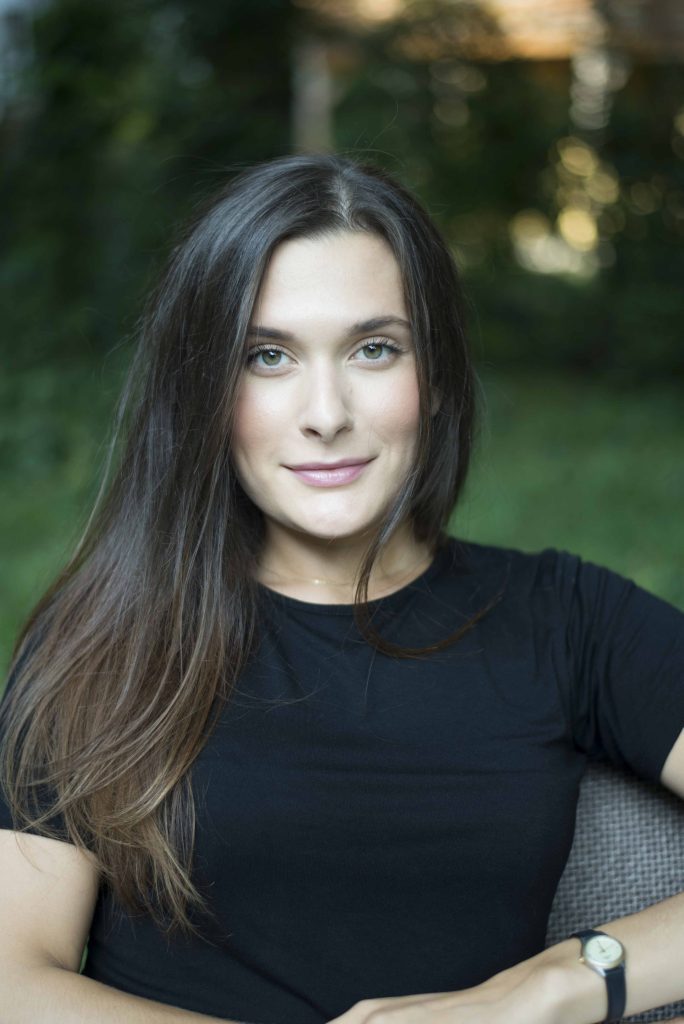 ArchiBiz: Where are you from and where do you currently live?
Eszter: I come from Dunaszerdahely, a small city close to the Slovakian-Hungarian border. Don't let its size fool you – the city has a chilling history, complete with true crime stories that will leave you going down the rabbit hole once you Google it.
For the past decade, I've mostly called Hungary my home, and my husband and I have spent seven years in bustling Budapest. But now, we're in the midst of an exciting new adventure as we're preparing to move countries in the coming months – more on that below.
ArchiBiz: What can we find you doing in your spare time?
Eszter: I love a good hike and an aimless wander. You'll likely find me kayaking every chance I get. I'm also a Planthusiast (is that even a word?) with a little propagation station. At one point, my plant count neared 70, which was a lot more than I bargained for.
You can often catch me with a good book but no matter where I am or what I do in between, my day always starts with a cup of coffee and most days, my trusty Times crossword – a perfect way to jump-start my brain and often to switch it off as I'm definitely not not drinking one at 9 pm.
ArchiBiz: Cat or dog person?
Eszter: When it comes to my love for animals, I'm an equal-opportunity enthusiast loving each and every one of them. BUT, if I had to choose between the two, I'd certainly have to go with the latter. In fact – and consider this your official warning – give me even the slightest inkling that you're interested and be prepared for a tidal wave of adorable as I'll flood you with pics of our foster fail, Bruno.
ArchiBiz: Tell us about what you were doing prior to ArchiBiz.
Eszter: I've always worked in arts and design communications. Still, it was my experience as a journalist in Poland that propelled me into the world of architecture, falling for the incredible talent.
But it was my role at BowerBird, an Australian tech-media platform that helps architects get published globally, that really allowed me to get to know the ins and outs of the business of architecture and design. For almost five years, and through various roles, I helped with the European launch and international growth of the platform, working with hundreds of architects and interior designers and guiding them through their media efforts while helping journalists along the way to uncover amazing stories. These people gave me an invaluable overview of archi-communications that I'll always cherish.
ArchiBiz: What led you to ArchiBiz?
Eszter: My passion for the building industry was solidified through my previous experience, and I knew that when it was time to take the next step in my career, I wanted to continue working with the incredible cohort of architects and interior designers across the globe. I've been following the work of ArchiBiz ever since I met Bec and Ray a few years ago. I greatly admire their holistic approach to supporting architecture practice owners and leaders from A to Z, and how they talk frankly about the often-false preconceptions of what the business of architecture should or shouldn't look like. Their inclusive community fosters open conversation and a supportive environment for all, and I'm grateful to be on their side in making an impact within the building industry.
ArchiBiz: What draws you to architects and architecture in general?
Eszter: So. Many. Things. I admire their drive and devotion. You sit down and ask an architect about their design and you're still there two hours later, eyes wide open, listening to all the work and meticulous detail going into the striking designs, and the innovative use of materials. But it's so much more than just aesthetics – they're consciously creating something that serves a purpose and has a profound impact on the landscape, social dynamics, and the way people interact with each other, potentially even shaping the culture of the communities and relationships that form within them. It's amazing.
ArchiBiz: Is there anything you're looking forward to in 2023?
Eszter: Circling back to my semi-cryptic answer in the first question – our move to Portugal! I'm looking forward to being able to explore a place, not only on the surface level, but immersing myself in the culture, and really soaking up the essence of the country, as cliché as that may sound. I've been learning Portuguese for over 7 months and what I know now is that I know close to nothing, so that's the perfect start to level up my language skills.
ArchiBiz: What is something that would surprise most people about you?
Eszter: I've intentionally left this out of the second question because when I tell people this, it often hooks them by surprise – spoiler pun intended. I'm very into fishing! I have my fishing license and I love to get my rods out even if only for a couple of hours at a time.
ArchiBiz: You're joining ArchiBiz as our first-ever Community Manager and Coach. What does community mean to you?
Eszter: Community to me is a judgment-free zone that allows for collaboration, and the sharing of knowledge and resources. It's a sense of support. It's something that can energize and affirm; wherever you might be in your journey, you fit right in within the right community. Being in a community is a marathon and not a sprint (if that makes sense). There are often setbacks and challenges along the way and you may not always run at a constant pace. But, just as in a marathon, consistency in the journey is as important as the destination and the sense of accomplishment and satisfaction comes not just from reaching the finish line, but from the process of getting there with your chosen community there as a support system.
ArchiBiz: How can a community help or empower architects?
I feel that a community can help you connect the dots in every way. This involves creating a sense of belonging, fostering engagement, and encouraging open communication and collaboration.
Like everything, leading a business can feel overwhelming. You might have all the pieces of a puzzle but struggle to piece it all together. This is when your community becomes your sounding board, your reality check, and your collective sidekick. It helps to create and nurture a space and opportunity to have a vision for the future of architects and architecture. When we're all working towards a common goal it becomes a butterfly effect, which impacts architects not only on an individual level but architecture as a whole.
Want to learn more about Eszter? Connect with her on LinkedIn here.