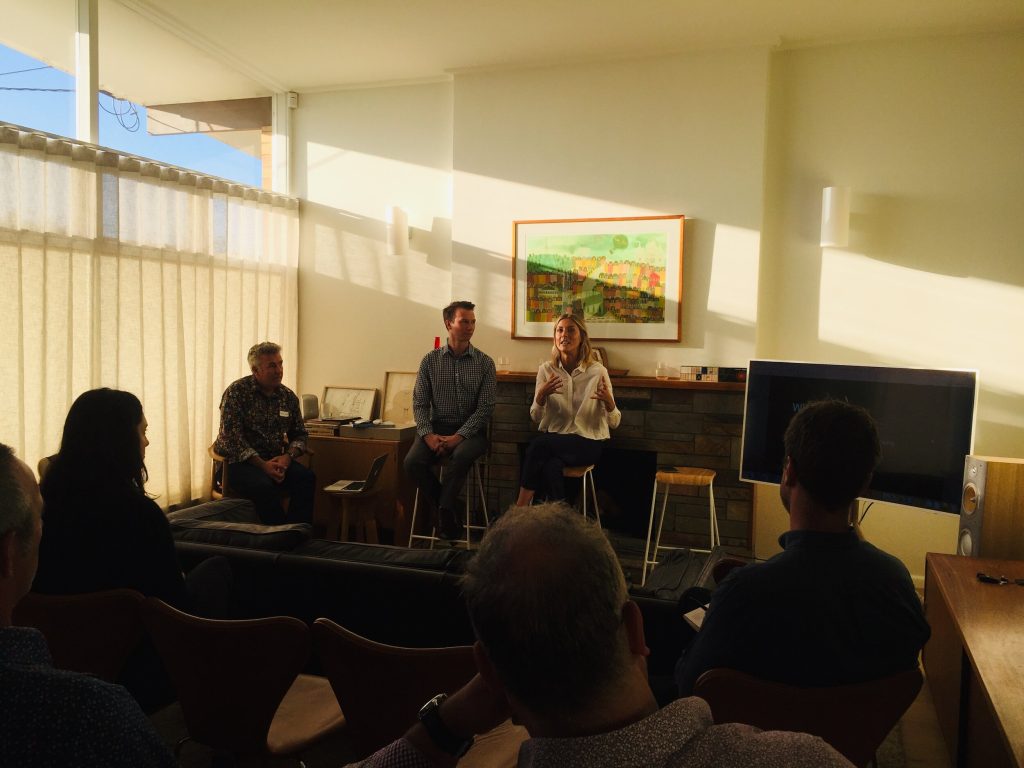 After listening to the perspectives presented on the panel at the Geelong & Surf Coast Architects Regional Practice Forum this morning, my take is that it's highly important… as part of a wider marketing strategy.
The event, Marketing and the Media: putting yourself out there, was hosted in the super cool mid-century 'Kirriemuir' home of architecture veteran and founder of Studio 101, Peter Woolard. Alongside Peter, the panel included Maddy Ellis of Bowerbird and Brodie Norris, The Lunchbox Architect.
So why is it important to get your projects published?
In a nutshell, published projects will form your foundational layer of marketing content. So when a prospective client is checking out your practice, they provide an independent level of credibility.
Let's take a moment to clarify the definition of 'published'. Whilst print is not dead, you need to think much more broadly than traditional media, like magazines. Publishing on digital platforms is equally, if not more important. For example, Vogue Living (Australia) print magazine has a subscription base of 295K readers, which is hardly small, but pales to comparison when you learn that their social media audience is 2.9m! Whilst they may not carry the same prestige in the eyes of some, digital platforms often provide access to more eyeballs – or more potential clients – making them an essential part of the PR mix.
Does digital publishing require different assets to traditional publishing?
Digital publishing still requires you to have high quality photography for your project. But it allows you to take it a step further and leverage assets like video. Before you exclaim, "but I couldn't possibly afford that", video doesn't necessarily cost more than photography. In some cases it can be more affordable. Where a picture tells a thousand words, a video can evoke an emotional response and tell a compelling narrative. It allows you to share the transformation you made in someone's life. This video commissioned by one of our clients, Bower Architecture, for their project – The Villa at Barwon Heads – does exactly that.
What projects should you be publishing?
The first question you should ask yourself when assessing what to publish in your body of work, is what projects do you want to attract?
What's your niche? Because you should have at least one niche. Possibly more than one. Don't put out projects that you don't want to work on, because you'll become known as the practice that does that kind of work. You need to be able to tell a story about the project. What makes it special and interesting? What's the hook for the journo publishing? A good place to start in developing the narrative is thinking in terms of:
The brief,

The challenges, and

The solution.
Include how you added value and made the client feel as an outcome. The Bowerbird platform has some useful thought starters for helping you write this and the Bowerbird podcast contains a wealth of information on publishing and PR.
Another top tip – keep it layman's terms and avoid 'archispeak' at all costs!
Attracting clients requires more than great photos and getting published.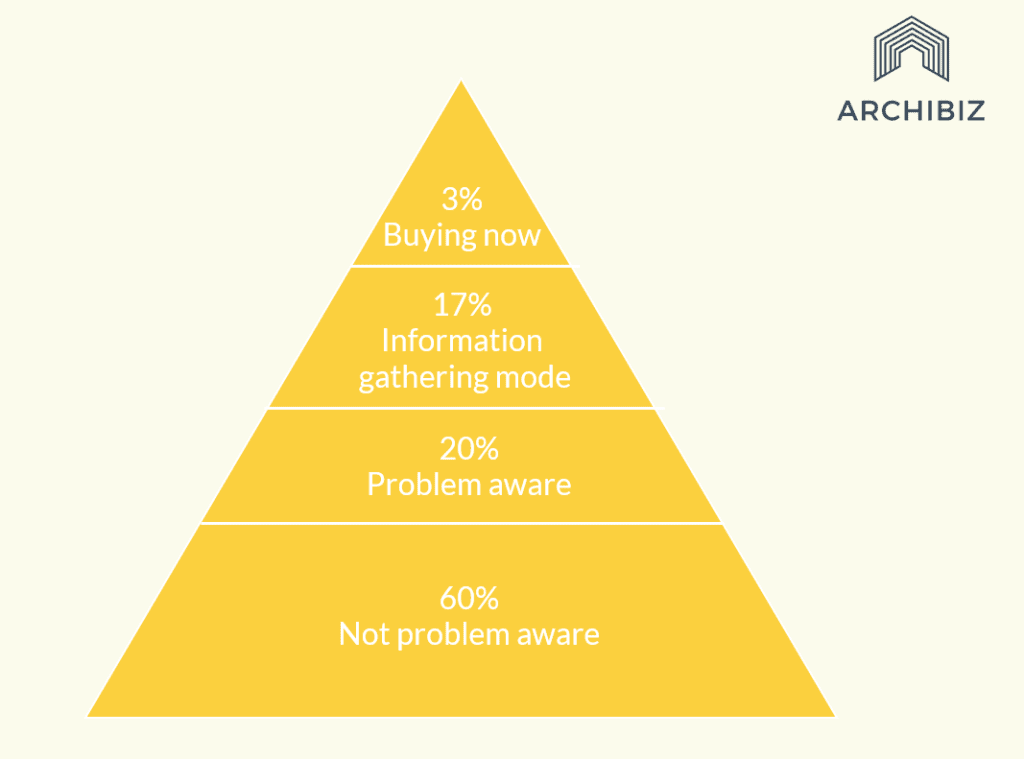 Getting work published is a slow burn. If you think it's going to generate hundreds of Instagram follows and clients knocking down your door, then you'll be sadly mistaken.
So what's your marketing strategy beyond posting beautiful photos of projects on your website? The answer lies in understanding that at any one time there's only around 3% of people ready to buy now. The other 97% are at different stages of the buying journey. Brodie explained this in a graph, very similar to this one which we discuss in module 4 of our Designing Architectural Practice Success course.
What it demonstrates is why you need to be developing content that helps people in earlier stages of the buying journey understand the value of architecture. This is where the collegiate nature of architects becomes beneficial for the entire sector. By leveraging the collective power of architects to each articulate the value of design, the market can be educated about the benefits an architect can bring to a project, over that of say, a volume builder. It's adopting the mindset of category advertising versus brand advertising. The dairy industry has been successful in this approach by encouraging people to drink milk, whereby all suppliers win.
And if you're worried you've missed the boat with publishing your back catalogue of projects, the good news is that it's never too late to start publishing them if their story is yet to be told.
If you're looking for more tips, strategies and advice to improve your marketing, download our beloved "Architect's Guide to Marketing" here. Alternatively, you can contact us directly by filling out this form, and we'll find a time to chat about your needs and how Archibiz can help.